The Jr. High Basketball Games scheduled for Saturday morning have been moved to Monday afternoon, the first round of games will start playing at 4 p.m. The 8th graders will play at the high school gym with the 7th graders playing at the elementary. Go Panthers!

Basketball Games in Shepherd today are at 3:00 p.m./4:30 p.m./6:00 p.m. Boys JV followed by Girls and Boys Varsity. Bus is leaving at 1:30 p.m. Go Panthers!

The tournament this weekend for Wrestling in Miles City is being cancelled. Wrestling will resume on the 22nd in Forsyth. GO PANTHERS!

Congratulations to our RHS wrestling team! Sheldon Serrano and Brandon Anthony both placed today in the Columbus Tournament, 5th and 8th place. They became the first two wrestlers to ever place at a wrestling tournament for Roundup High School. Congratulations!

Saturdays game with Malta has been canceled, however the games tonight are still proceeding as planned. JV Boys - 4:30 , followed by Varsity Girls and Boys.

Roundup High School Sports Schedule for this week. Jan. 4th Boys Varsity BB vs. Red Lodge 6 p.m. Jan. 7th Basketball vs. Columbus Boys JV 4:30 - Girls Varsity 6:00 p.m. - Boys Varsity 7:30 p.m. Jan. 8th Basketball @ Malta Boys JV 1:00 p.m. - Boys Varsity 2:30 p.m. - Girls Varsity 4:00 p.m. Jan. 8th Wrestling @ Columbus High School 9:00 a.m.

The Boys Basketball Games are cancelled tonight due to illness on the Red Lodge team. The varsity game has been rescheduled for 6 p.m. on the 4th of January. The game tonight will start at 5:30 p.m. and have limited concessions. Go Panthers!

Dear Families, Roundup School District has become aware of a troubling post that has been shared this week on the social media platform TikTok. The post refers to a threat to school safety "for every school in the USA" on Friday December 17. The post appears to be part of a national TikTok trend and did not originate in our school district. While we do not believe the threat to be credible, we are closely monitoring the situation. Additionally, the district has been in contact with Musselshell County Sheriffs department regarding the post. This situation serves as a good example of why it is important to avoid sharing posts online that refer to school safety threats. Even if they are not credible threats, they can cause a great deal of stress and anxiety for our students, families, and staff. We ask our families to monitor their children's social media activity and speak with them about proper online behavior.

Update for home basketball games on 12/17 and 12/22. The schedule will be as follows. JV/C team boys 4:30 p.m. Varsity Girls then Varsity Boys to follow. Go Panthers!

School Board Meeting - Monday Dec. 13 @ 7:00 PM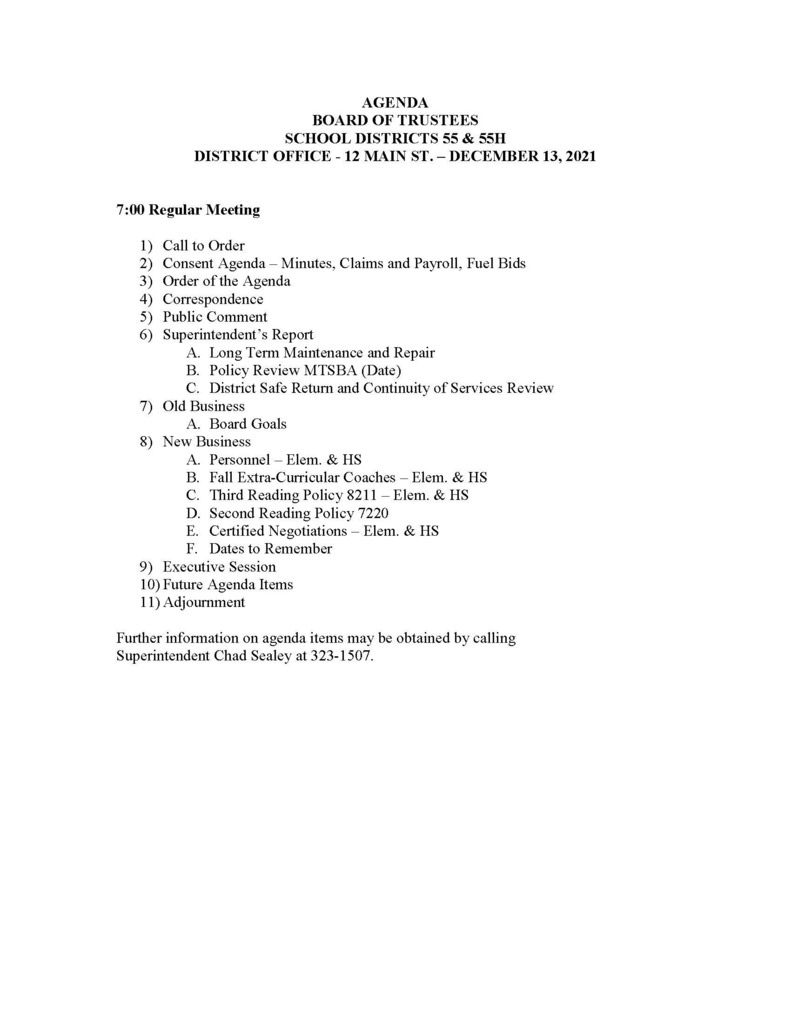 Reminder - Monday December 13 is a PIR day - No School for students

The Boys and Girls Basketball team's will host Lockwood sub varsity this Friday December 10th. Boys JV at 4/ Girls Varsity at 5:30/Boys Varsity at 7pm. Come out and cheer on the Panthers! There will be no concessions at these games as it is a late addition to the schedule and we don't have supplies

Just a reminder you can check your child's grades, assignments, and lunch balance anytime using the Infinite Campus Parent portal or the Parent portal app. This link provides video instruction on how to use the app. If you have questions or need your log in information please contact the appropriate school office.
https://www.youtube.com/watch?v=C0AMekUdYGk
Senior Parents & Seniors: The FAFSA Priority Deadline is fast approaching. The priority filing deadline is December 1st, which is only a week away! The holiday break is a great time to get this completed.

The school administration and sheriffs department having been working together to resolve a situation with a former student. The student was on campus at the end of the school day yesterday but was not on campus today. At this time, there is not a credible threat to campus and we will continue to work with the sheriffs department. If you have any questions, please call the high school at 323-2402 or the district office at 323-1507.

Reminder, Roundup Schools will have a short week of school due to the Thanksgiving holiday. Wednesday will be an early out beginning with a 1:50 dismissal from the elementary school. The Elementary After School Program will only be Monday, November 22 and Tuesday, November 23 this week.
Seniors and Senior Parent Reminder: Cap & Gown ordering event is tonight, November 18, from 4:30 to 6:00 p.m. in the High School Commons. This is a come-&-go event. The Josten's rep will be on hand to assist in any way that he can and answer questions. See you tonight, Seniors!
Senior Parents & Seniors! It is time to order Caps & Gowns! Please see the image for all the information on the upcoming order night this Thursday, November 18. You can also get all your Senior Swag! Seniors received an ordering packet last week.

5th and 6th grade boys basketball will start on Monday, November 15th. Letters were given out to all boys who were interested in playing. If you have any questions please call Coach Griffith at 323-1512.

On Friday, Nov. 12th, PTSA will be having a Family Movie Night, featuring Boss Baby 2! Family Movie Nights are put on by the PTSA, as a fundraiser. They take goodwill donations at the door, and sell concessions. In order for Family Movie Nights to run smoothly, we need volunteers! There are a few jobs/tasks you can help with: -Prepping & cooking concessions -Welcoming people at the front door and taking goodwill donations -Movie room attendee (Making sure families are courteous and quiet during the movie) -Serving concessions -Cleanup crew We start concession prep at 5:30. Doors open to families at 6:00. Movie starts at 6:30. Cleanup is until 8:30ish Any help is SUPER appreciated!!!! Contact Sharron Hagstrom if you can help! GO PANTHERS!