Reminder - All Fall Sports Meeting for High School Parents and Athletes, Thursday, August 12th at 6:00 PM in the High School gym. All athletes participating in Football, Volleyball, Cross Country, and Cheer should attend. Also, remember athletes need to have their physical completed and form handed in before they can practice. Please call Athletic Director, Tom Cliff at the high school with any questions.

July/August Drivers Education - Mandatory Parent and Student meeting on Tuesday July 6th, 6:00 PM at the high school. Please remember to bring a certified birth certificate and social security card. The next mandatory class will be Wednesday morning July 7. If you have questions please email
chadsealey@roundup.k12.mt.us
prior to the Tuesday meeting.

Volleyball open gym grades 7-12 Thursday June 10 from 6:00-8:00 PM at the high school.

Girls basketball open gym grades 7-12 this Wednesday June 9 from 6:00-8:00 PM at the elementary gym.

This notice is to inform you that report cards and honor roll certificates will be ready on Monday, June 7th, for students that recently completed grades 7-12. Report cards will NOT be mailed and are available online through the parent portal or can be picked up at the high school Monday June 7th through Friday June 11th from 8am-4pm each day. After the 11th, Trish and Steph are off for the summer and you will not be able to pick report cards up until next school year. If your child graduated this year, please note that their portfolios will also be available June 7-June 11 for pick up in the office.

Roundup Public Schools is currently seeking the following: Full-Time Bus Driver Full-Time Bus Aide Asst JH/HS Secretary Head Food Service-1 year training position HS Head Volleyball Volleyball (Asst HS Coach, JH Coach, Elem Coach) Middle School Counselor -2 year position Instructional Coach-Jr/Sr High-2 year position Behavior Specialist-2 year position HS Head Girls Basketball Girls Basketball (Asst Coach, JH Coach, Elem Coach) Assistant HS Football Head Wrestling Coach Assistant and JH Wrestling Coach To apply for any of the above positions, please submit application materials to: Roundup Public Schools 12 Main Street Roundup, MT 59072

Roundup High School graduation this Sunday at 2:00 PM will be broadcast on the NFHS network. There is not a fee charged by NFHS for graduation.
www.nfhsnetwork.com
and find Roundup High School

Class of 2021 Senior Prank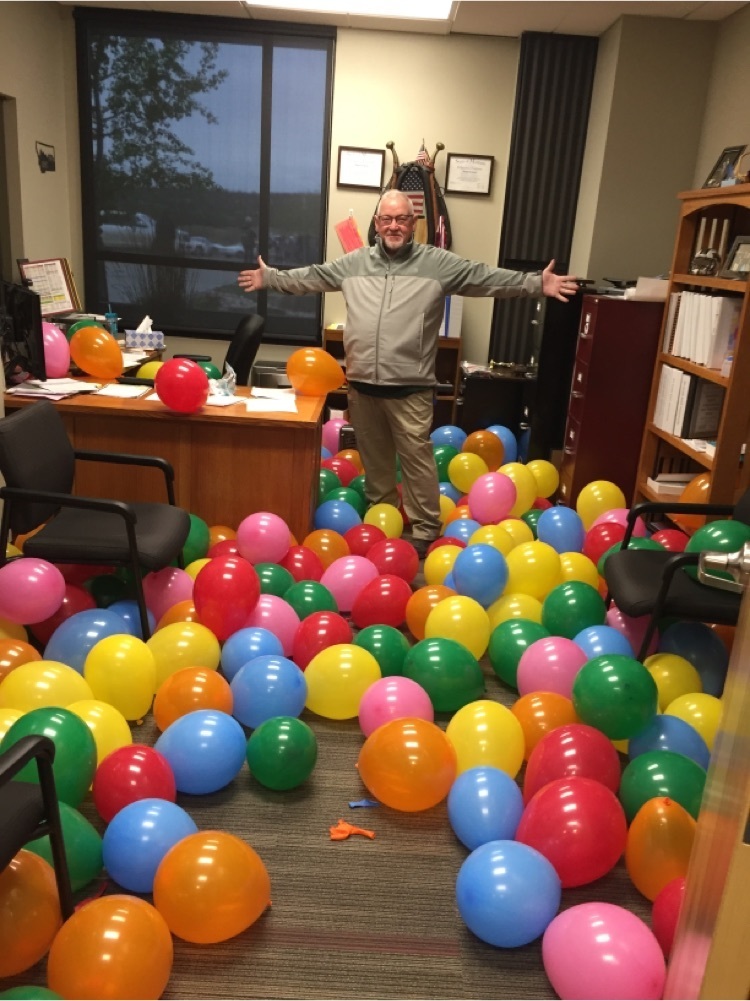 Tonight is the Elementary Spring Concert. The weather is looking great. The concert starts at 7:00pm. Please have your students at the stage at 6:45pm at the latest. If your child is in Kindergarten, 1st, 2nd, or 3rd grade they will sit with you until we call them to the stage. Make sure to bring a lawn chair. There has been one addition to the concert. The High School and Junior High Choir will be singing after all the elementary students are finished. This will add just 15 minutes to the concert. I am very excited for tonight and hope to see you all there! Mr. Stahl

Dear Band Parents, Family, and Community members, With such a busy school calendar these last two weeks of school, the band concert has been CANCELED, this includes 5th grade, 6th grade, JH, and HS Bands. The JH and HS Choir WILL be singing tomorrow, May 18th at the elementary music concert at 7pm at the Community Stage. I am truly sorry for any inconvenience on my behalf. I would like to greatly thank all the band family, community and teachers that have been so understanding and supportive this year. It has been a crazy year for the performing arts, but I am so grateful for everyone's perseverance, grit and integrity, especially our band students themselves! High school band will see you at graduation though! There are too many people to thank for this year to name, but those that helped set-up and tear down last week, a very special thank you! If you have a comment or questions, please email me at my school email or call me at the high school. Thank you greatly, Ramon Ochoa Band Director for Roundup Schools

🚧 Due to the incoming weather with possible lightning, tonight's concert will be rescheduled for a later date. Sorry for the inconvenience 🚧

Thursday Roundup High School is having its Spring Concert at the Community Stage. Admission is free.However, bring your own lawn chairs.

RoundupJr/Sr High School will be hosting a DUI Simulation and Extrication tomorrow, Tuesday, May 11 at 1:00 PM. Several agencies including Musselshell County Sheriff, DES, Ambulance, Roundup Memorial Healthcare, and SCL Health will be included. If you have questions or would like your student to opt out, please contact Trish or Steph at the junior senior high school.

ELEM CONCERT UPDATE Please be advised that due to the weather forecast for Tomorrow, we will be rescheduling the Elementary Spring Concert to Tuesday, May 18th at 7:00pm

Roundup High School will be offering a second drivers education class starting on July 6 and ending August 13. The limit for the class is 21 students. The high school will be reaching out next week to parents of students that are eligible for the class. Parents will be contacted in order of age of the students. Other options for drivers education will be discussed also.

No JH or HS track practice tomorrow, 4/30.

**Location change** The parent meeting for student's enrolled in the Spring Driver's Ed course is being moved from the Community Library to the HS gym.


The JH track meet scheduled for Friday, April 23rd has been cancelled. There will be no JH track practice on Friday either.

Elementary News Mrs. Harper and the high school FFA students are hosting a petting zoo for the elementary students on Wednesday. Classes will go to the high school and learn about the animals that are on display. The students are very excited for the opportunity. Thursday the Kindergarten Art Show will be held at the Roundup Elementary Commons. The show starts at 6:00 and lasts until 7:30. Mrs. Kinn and Mrs. Larson will be sending out information about the show. Come enjoy our kindergartener's art work!! Friday, the elementary students will be participating in community cleanup day. The elementary is going to clean on the east side of town from noon to about 2:00. If you see students wandering around picking up garbage don't be alarmed they are taking part in some community service. All students in the elementary will be participating.