Junior High Volleyball Update - St. Francis will not be traveling to Roundup tomorrow. Roundup will play two matches against Columbus. First match is at 8:30 AM.

Happy Homecoming Friday! The annual Homecoming parade and assembly will begin today at 1pm. The parade will start at the High School and finish at the community stage, where the assembly will be taking place. The public is welcome to attend both the parade and the assembly. Due to the assembly and shuffling kids back to the schools for dismissal we are anticipating that buses may leave early. At this point we have planned for the buses to be ready to load and leave the elementary school by 3pm and then head to the HS to load and leave from there. This could easily put our buses anywhere from 15-20 minutes ahead of schedule, but again depends on how long the assembly lasts. ~Superintendent Chad Sealey

Please see the Poster for Pack The Place in Hope details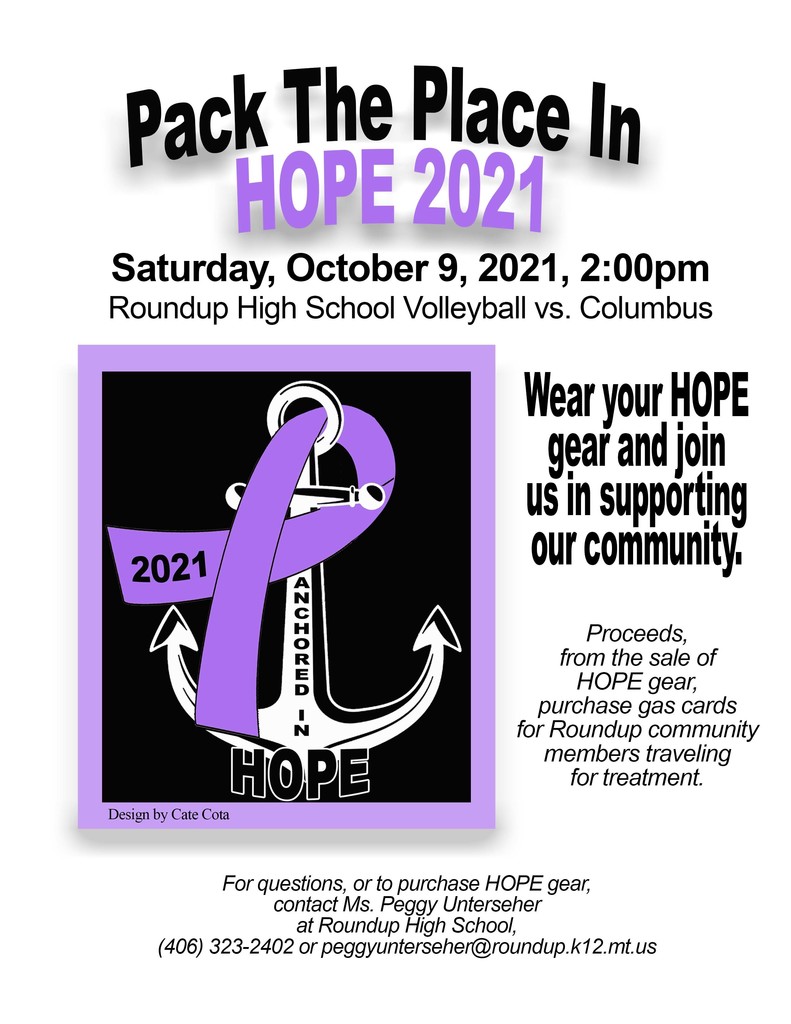 Please refer to the order form to purchase a shirt for Pack the Place in Hope.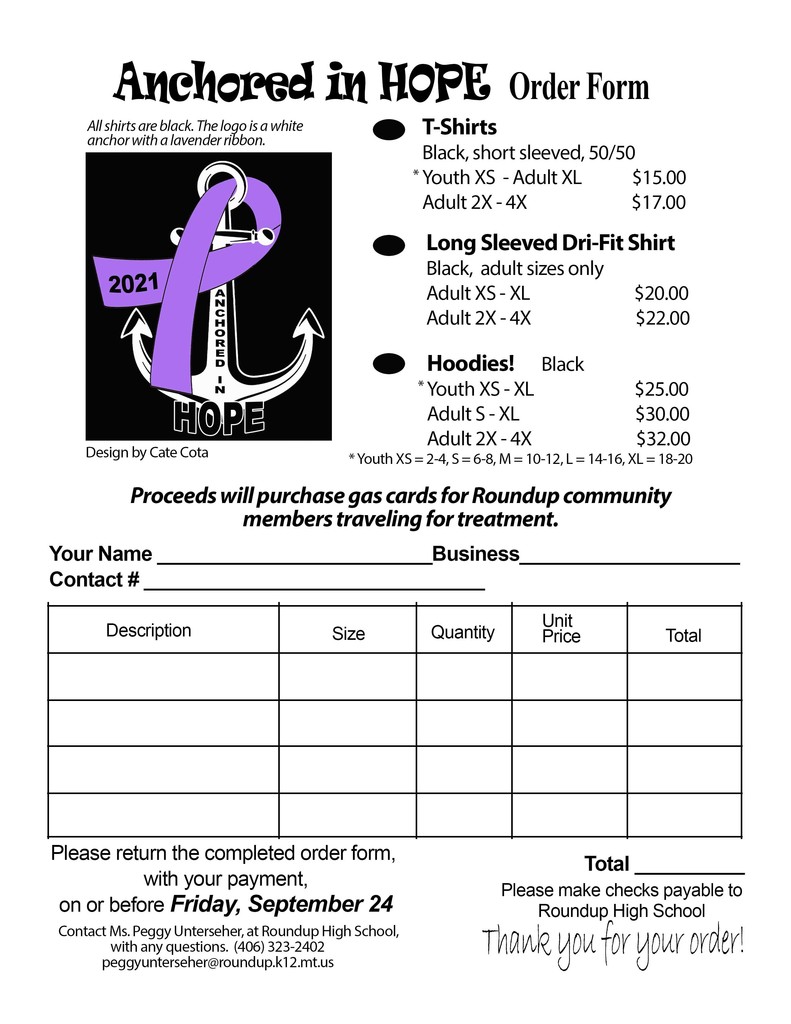 School Board Meeting September 13, 2021 @ 7:00 PM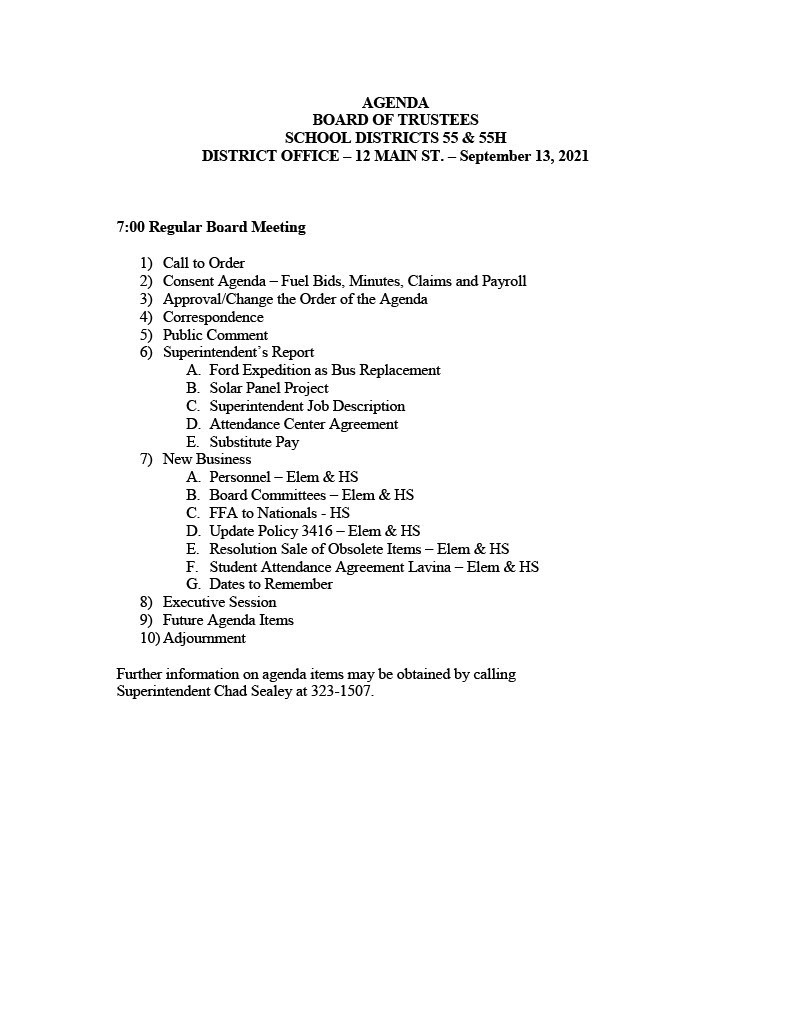 IMPORTANT ANNOUNCEMENT REGARDING 5-8 FOOTBALL - We received a call this morning from Red Lodge and they don't have a driver to transport their 5-8 football team to Roundup. We have agreed to switch home and away and travel to Red Lodge tomorrow morning. The 5/6 game will start at 10:00 AM with the 7/8 game to follow. The bus will leave the junior senior high school at 7:00 AM for all players 5-8. Please call your students school if you have questions.

***HOMECOMING DRESS UP DAYS*** Monday, 9/13 - Dad Day Tuesday, 9/14 - Pajama Day Wednesday, 9/15 - Class War Day - Decades Thursday, 9/16 - Black Out Friday, 9/17 - Panther Pride Day

Elementary News Roundup Elementary parents remember this is the first day of the Academic After School Program. If you have signed your student/s up for the program please remember to pick them up starting at 4:45- 5:00. Please park along the south side of the building (11th Avenue East) and come to the main four doors to pick up students. Parents of eligible students if you declined the opportunity to have your student/s participate in the program and have changed your mind or change your mind later, please call me at Roundup Elementary at 323-1512 so we can get them into the program as soon as possible.

Panther football halftime score Glasgow 24 Panthers 0

Panther football 1:16 left in 1st quarter Glasgow punches it in for an 8-0 lead
Roundup Volleyball Parents we were just notified by Shepherd that the start time for the J.V. Game is being pushed back to 3:30 p.m. with Varsity to follow. Good Luck Ladies!
Busy day for Panther Athletes! Jr. High and High School Volleyball are in Shepherd! Jr. High Football teams play Columbus at home first game at 10 a.m. Varsity Football tonight at 6 p.m.!
Home Volleyball Game! Come cheer on the Volleyball team tomorrow, Thursday night! J.V. starts at 5:30 p.m. with the Varsity to follow! Go Panthers!
Football Meeting for Jr. High and 5th/6th grade parents and players will be tomorrow at 5 p.m. at the High School Gym. Equipment will be checked out at this time. Please remember physicals are required before you can practice or play in a game.

HIGH SCHOOL FOOTBALL SCHEDULE CHANGE - To help the officials cover all games in the area the Glasgow vs. Roundup football game is moving from Friday Sept. 3 to Saturday Sept. 4 at 6:00 PM. HIGH SCHOOL VOLLEYBALL SCHEDULE CHANGE - The volleyball game at Colstrip on Tuesday Sept. 21 has been canceled. It will not be rescheduled as Colstrip has a scheduling conflict.

Roundup Junior Senior High School - 7th Grade Orientation tonight at 7:00 PM. Tomorrow morning doors will open at 8:00 AM and breakfast will be served for those interested. At 8:25 all students will report to the gymnasium for introductions of new teachers and staff members. Students will pickup schedules after the assembly and then report to first period class. If you have any questions please contact the high school at 323-2402.
Reminder All Sport Meeting tonight for Parents and Athletes in the HS Gym! Anyone interested in participating in Football, Cross Country, Cheer, and Volleyball should be in attendance. The All Sport meeting will start at 6 p.m. Followed by individual team meetings at 7 p.m.

The Board of Trustees voted at their regular meeting August 9th at 7:00 PM not to require masks to start the school year. Staff and students may wear a mask while present in any school building or on school buses but it will not be required. This topic will be closely monitored and will appear on every Board Meeting Agenda for the remainder of the 2021-22 school year. If you have questions regarding this topic please call the District Office at 323-1507.

Roundup Public Schools is gearing up for the new school year. Office staff is available in both buildings for any questions, registration, etc... Elem phone is 323-1512 and JH/HS is 323-2402. Transportation questions can be directed to the main office at 323-1507. All students K-12 will begin on August 18th. This will be an early out day with elem starting dismissal at 1:40 for kindergarten. The elementary school open house is scheduled for Tuesday, August 17th from 5-6:30pm. Come meet your teachers and bring your supplies. 7th grade orientation is also scheduled for Tuesday, August 17th starting at 7pm.

Attached is the Agenda for the Board of Trustees meeting scheduled for August 9th at 7pm in the District Office