Tuesdays Track meet at Colstrip is being rescheduled. More information will be sent out when it's available. Tuesdays JVGolf has been cancelled.

We just received a call that the Montana Legislature is shut down tomorrow because of COVID. Therefore the junior senior trip is postponed. Sorry for the late notice.

RHS Cheer & Stunt will be holding an open gym tonight at 5pm in the Community Center for any current HS students that are possibly interested in trying out for the 2021-2022 cheer team.

Please be advised that due to the current weather forecast, the JH track meet scheduled for tomorrow in Laurel has been cancelled.

Please review the News Column for posted information about the Notice of Trustee Election.

Youth Court/Juv. Prob./The Musselshell Sheriff's Office and DEA announce a DRUG IDENT. AND EDUC. SEMINAR Wed. April 21 at 6pm, Community Center Commons. Do you know what drugs are in our community? Do you know where they are being hid in plain sight?

The track meet scheduled for today at Lockwood HS, has been moved to tomorrow. Bus leave times and start times will remain the same.

Information regarding Tuesday's HS track meet at Lockwood HS. -Bus will depart from HS at 1:30pm -Each athlete is allowed 2 spectator's (you do not need to sign up prior) -Admission is $5/adults and $3/students -Concessions will be available

Here is some information regarding Track practice over the break from Mr. Cummings. Wednesday, March 31st, HS and JH practice will start after school approximately 2:20pm Thursday, April 1st, HS track practice will be at 11:00am, JH track practice will be at the same time but is optional Friday, April 2nd, NO TRACK PRACTICES Monday, April 5th, HS track practice at 4:00pm, JH track practice will be at the same time but is optional

Due to lack of photographer and DJ Prom has been moved to May 1.

Roundup High School Drama Presents "Crumpled Classics" Community Center - Friday March 26 @ 7:00 PM Saturday March 27 @ 1:00 PM and 7:00 PM Sunday March 28 @ 3:00 PM Tickets are $5 for adults and $3 for students.

Winter Sports Awards for Cheer, Boys Basketball, Girls Basketball will be held Tuesday, March 30 at 6:30 in the high school gym.

Your Third Place State Panthers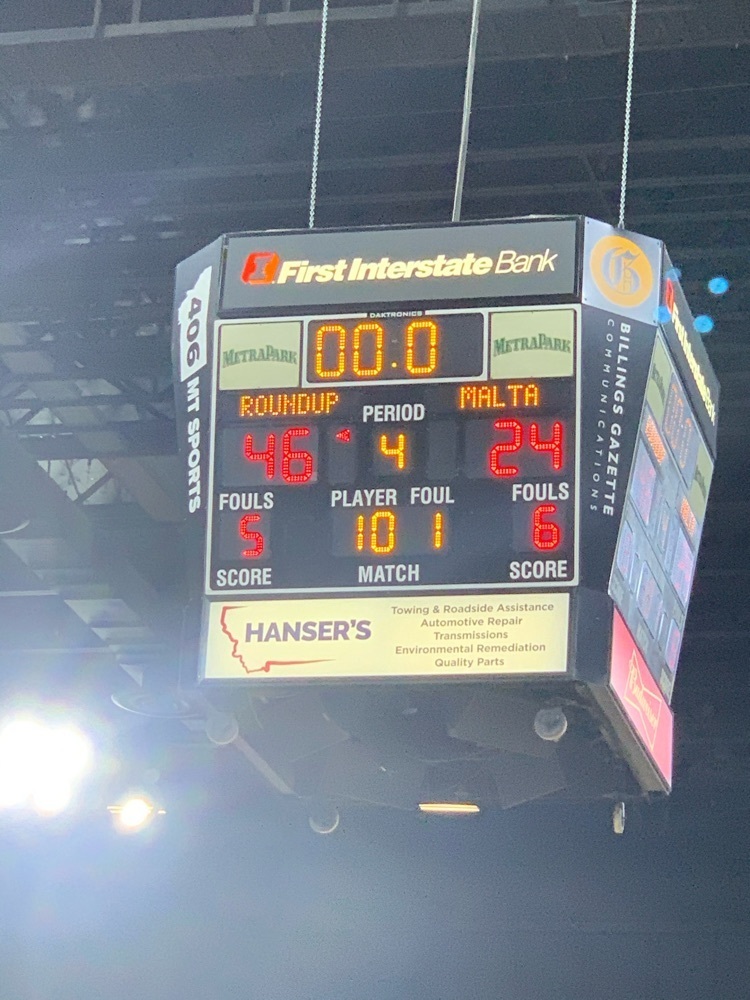 Burklee Kembel stepping to the line at State GB. Thursday.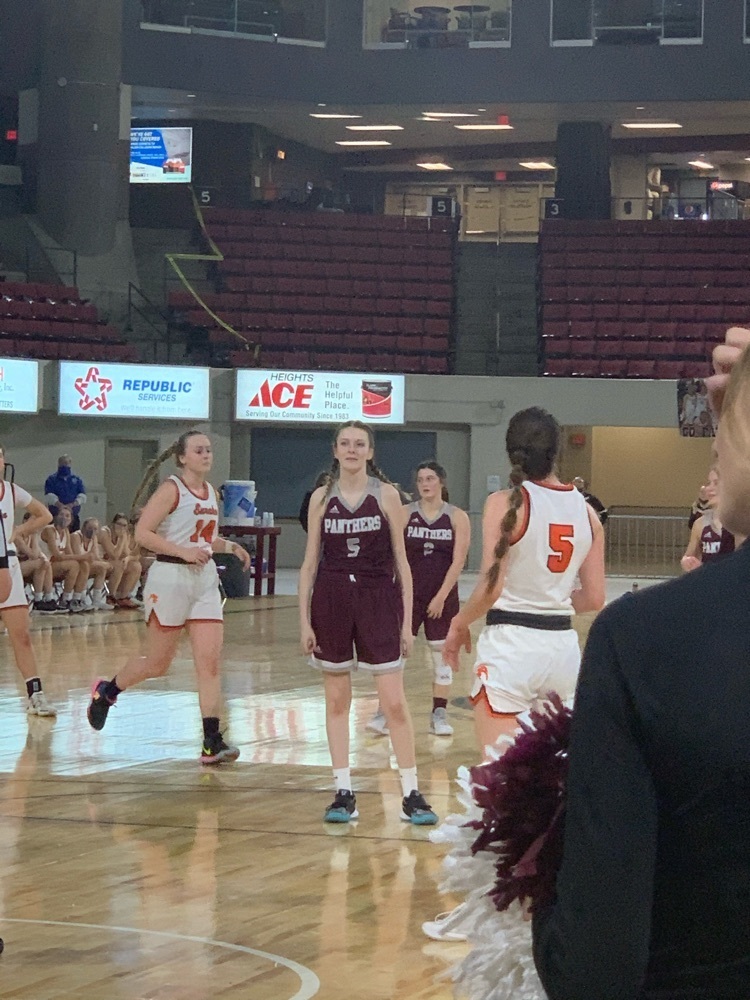 Fun times at today's Pep Rally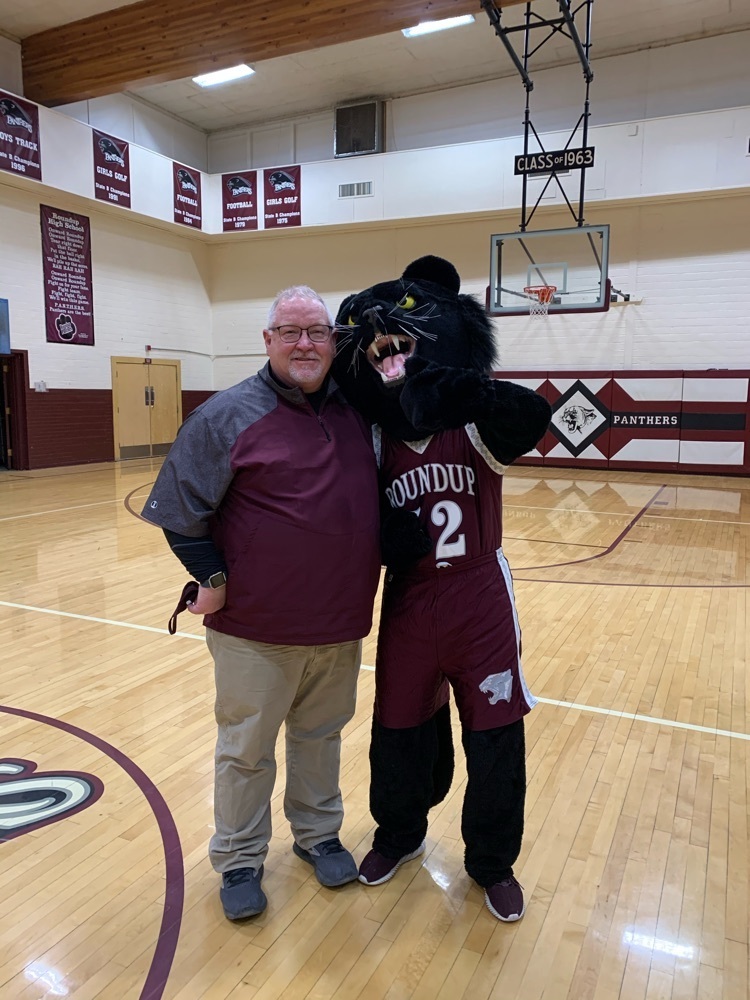 Dear Roundup Elementary Parents: The Roundup PTSA is hosting a No Sales fundraiser!! This will be the only fundraiser of the year for PTSA. Students are going to bring home a calendar and an envelope. The students are asked to sell the days of the month to family, friends, neighbors, etc. Whatever day a person picks would be how much they have chosen to donate. People can pick more than one day if they want. For example- If they sell March 10th to someone that person would owe $10. Payment can be cash or check. Checks can be made out to Roundup PTSA. Every student that turns in a partial or full calendar will win a prize. Students that turn in full calendars will be entered into the "Grand Prize Drawing." PTSA has a number of prizes to be given away including an IPAD!! Paperwork will go home with students on Wednesday, March 10, 2021 and is due Friday, March 19, 2021. Rick Griffith Roundup Elementary School Principal

At the regular school board meeting last night it was decided to cancel school this Thursday and Friday. The board and administration understand that this may cause some child care issues for families. However, the decision was made based on the number of staff members that were going to be gone for the State Basketball Tournament and the lack of availability of substitute teachers. The School District is always looking for substitute teachers and bus drivers so if you are interested please stop by the District Office for an application.

Four awesome teachers have volunteered to chaperone a pep bus to this weekends State Tournament games! Students who would like to ride the bus will need to have their admission ticket in hand as well as money for meals. Students can sign up at the high school office Tuesday and Wednesday so we can get a solid count. The bus will leave Thursday morning at 7:30am and will return after the game is over. Thank you teachers for making this possible. Tickets are on sale online with a code exclusive to Roundup. The cost is $20 plus a $5 convenience fee for each ticket. Tickets will allow fans to attend Roundup games only.

Here is some critical information for fans at the Southern Divisional Basketball Tournament. SPECTATOR SEATING AND PARKING INFORMATION Please check the bracket Light jerseys (home team) we will park in the bottom lot and enter the door at the top of the stairs. The Lady Panthers will be the dark jerseys for the Thursday 1:00PM game. Dark Jerseys (away team) will park in the top lot and enter the door at the bottom of the stairs. Seating will be in accordance to the side you enter. Every other row is zip-tied or has caution tape across it per Metra Park guidelines so please respect this and do not sit in these rows.

Here is some more information for fans at the Southern Divisional Tournament. Spectators will be allowed in 30 minutes prior to their scheduled tip but could be held a little longer in order to sanitize the area from previous fans if the game runs long.